#1
Updated to php 8.1 and latest smf version
#2
QuoteCounter-Strike also known as CS has long been a staple of the first-person shooter genre, captivating gamers around the world with its intense gameplay and tactical mechanics. With the release of the original game back on Windows in 1999 the series has since gone on to become a household name in the gaming community, spawning the sequels Counter Strike: Condition Zero, Counter Strike: Source and Counter Strike: Global Offensive.

Rumours have been circulating for the last 3 years about the possibility of a new instalment in the franchise, with much speculation of it being a new game or a mod or update to the existing game of CSGO but it wasn't until recently that gamers received the first glimpse of the next chapter in the Counter-Strike story which is Counter-Strike 2.

Counter Strike 2 will be running on the latest version of the Source Engine aka Source Engine 2 ( Ironic that the name lines up with the counter strike 2 name ) Of which many of Valves titles have been ported or developed on since as early as 2015 ( Dota 2 ) and one third party title have ran on since 2015. This table shows the latest Source 2 engine game data that is available.
Read More:
https://gameknightly.com/news/counter-strike-2-officially-announced-with-updated-graphics-gameplay-and-ai/
#3
Made the Ads less invasive, jesus google..
#4
Updated to reflect @ and added King Arthur ( Who is HGN member 135 by the way )
#5
As of this post the following person is assigned:

STALKER Admin
--
@devinci
Congratulations!
#6
Real Name:
Dev
Age:
24
Gamer Alias:
devinci
Steamid:
http://steamcommunity.com/profiles/76561198050549274
Position Applying For:
Admin
Servers You Play On
? HGN Stalker Roleplay
Past Experience:
11+ Years of RP.
Why Should We Pick You?:
I've been around the block a few times.
Dedicated and long time player, and personable member of the community, committed to creating stories, roleplay, and becoming apart of the team if applicable and I fit in.
Thanks.
#7
https://gameknightly.com/pc-games/new-half-life-2-ui-update/
QuoteHalf Life 2, released in November 16, 2004 was a ground breaking game in the gaming world, however as with time, things age, Valve recently has shown that Half-Life 2, along with Half-Life: Source and couple other Half-Life games are getting a new user interface! This is somewhat similar to what they achieved with counter strike global offensive already. However, it is not currently confirmed if the new UI will only display if you are using Steam Deck or if it will also display when using mouse/keyboard.

Here you can see the Comparison between the old 2004 version and new 2022 Half-Life 2 main menus user interface.

This is yet to be released to the stable branch, however you can access it by switching Half-Life 2 to the beta branch and setting the launch option to "-gamepadui". Enjoy!

You can access the new UI by switching Half-Life 2 to the beta branch and setting the launch option to "-gamepadui"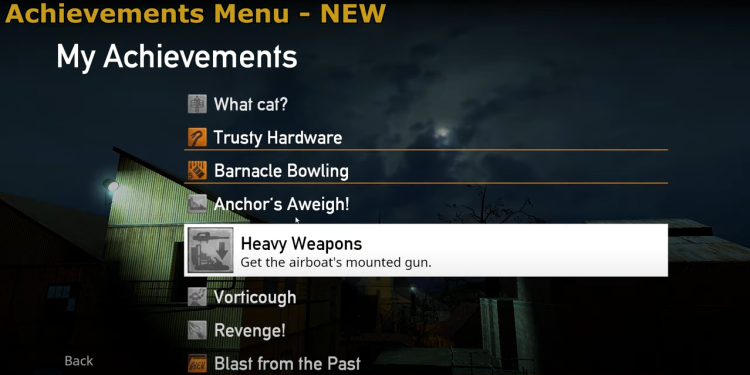 #8
Update 24/01/2022
Features
Added Artifact quality, each artifact has a random quality type, with the better quality being rarer.
Artifacts have varying weights
Artifacts is now an attribute, the more you work and inspect artefacts, the more proficient you will become.
Fixes
#9
New Blind Dog Nextbot i've been working on:

Behaviours:

Sits down occasionally
Howls occasionally
Will sniff ground or air occasionally

If hurt, will start limping and show these hurt animations
If it senses you from a distance and it has no friends nearby it will growl at you rather than chase you as a warning, if you get closer, it will attack you
If close to death and lack of friends, it will run away from you
Will take extra damage if hit in the head or torso and will show animation representing that it was hit
#10
T - Access to Basic Trading.")
l - Access to Tier 1 Items.")
s - Access to Tier 1 Gear.")
L - Access to Tier 2 Items.")
R - Access to Tier 2 Gear.")
K - Access to Tier 3 Items.")
Z - Access to Tier 3 Gear and attachments.")
E - Access to Tier 4 Items/Gear.")
A - Access to Ecologist Trading.")
W - Access to Military Trading.")
q - Access to Duty Trading.")
Q - Access to Freedom Trading.")
w - Access to Monolith Trading.")
N - Access to extra nationalities.")
F - Access to create female characters.")
P - Access to Pac3.")